Roof Repairs
Professional and trusted roofing repair solutions serving home and business owners in Mobile, AL.
GET A FREE ESTIMATE TODAY!
Fill out the form to get started.
Gulf Coast Roofing Repair & Maintenance
Restoring your roof goes beyond patching a single leak. We offer full-scale roof repair services to get your roof back in shape. Our experienced Mobile roofers can repair and/or replace any part of your roofing system.
From doing a routine gutter cleaning to fixing serious storm damage and leaks, RainTight Roofing & Construction are the experts in residential and commercial roofing repairs. We come out and do a complete inspection of your roof system and quickly find areas of concern then work with you to create a custom-tailored plan of action. Small roofing problems can quickly turn into extensive damage to your home, so it is important to have one of our professional inspectors check out any areas of concerns as they arise and address them accordingly.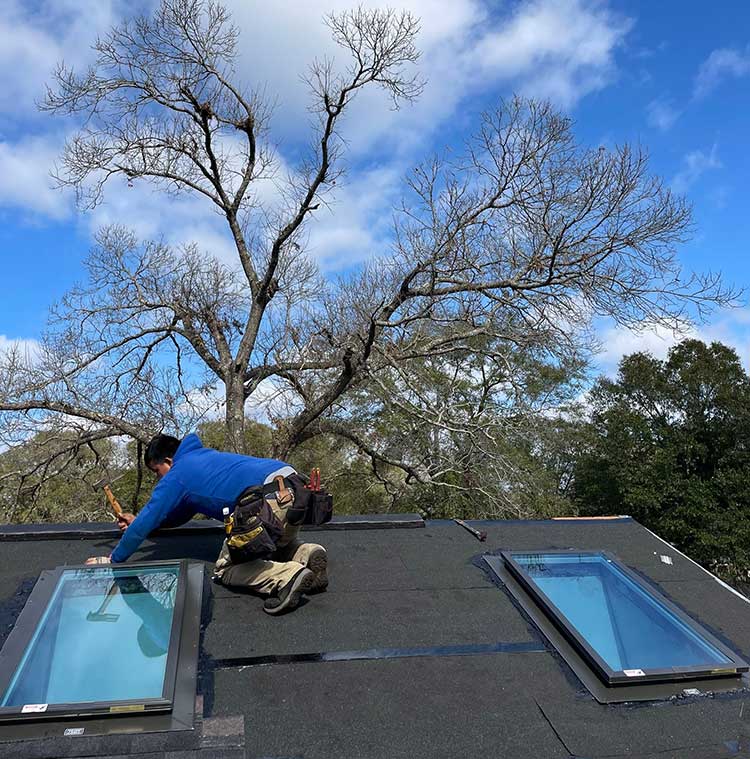 RainTight is one of the most reliable
roofing companies in Mobile, AL
. Our roofers are certified and trained to handle all manners of repair.
Common Roof Problems That We Look For
Broken or missing shingles
Improper ventilation
Failed flashings around chimneys, pipes, and other penetrations
Exposed underlayment or roof decking
Granule loss and hail marks
Leak prone areas not properly sealed
Loose or missing nails/screws
How Our Roof Repair Process Works

Contact RainTight Roofing & Construction
We schedule for one of our repair specialists to come out at your earliest convenience to document the damages and create an estimate to fix them.

Diagnosing Your Problem
Once we identify your roofing problem, we will identify all possible solutions custom tailored to your needs and budget so that you can have a well-informed idea of how to proceed forward.

Convenient Scheduling
We will work with you to determine a convenient time for a technician to come out and complete the work. Most roof repairs and installations only take 1-2 days. We provide high quality workmanship and materials to ensure that it is done right the first time, every time.

Watch the Job Right from the Palm of Your Hand
We will text you a link to a live photo folder that is updated before, during, and after the job by the project manager. This ensures total transparency of the work done and allows you to monitor the job without even being home.
Take the Next Step in Protecting Your Home
We guarantee quality roof repair in Mobile, AL. We use premium materials that are proven to stand up to extreme weather conditions. Our work is also backed by our 100% satisfaction guarantee. Give us a call at (252) 272-9505 for a free quote and consultation.
Call now for your FREE no-obligation estimate!